Intel Optane is being marketed as a drive caching device to speed up hard drive usage.  It provides much faster read and write speeds than even the fastest SSD can match, without RAM's constant power requirement.
There are only three actual, physical products powered by Intel Optane, the first being Intel's the 375GB Optane DC P4800X PCIe card, aimed solely at big data centres; and two Optane Memory products of 16GB and 32GB capacities in M2 form factor.
Intel Optane Memory keeps the most commonly used files on that drive, giving old HDD's a boost of speed.  This is available in 16GB and 32GB capacities in the M.2 form factor using two PCIe 3.0 lanes that slot directly into the motherboard.  It has super low latency, but unlike the RAM in your PC, Optane is non-volatile and can retain data once powered off.  It's also a lot faster than even the speediest NVMe SSD you can buy today.  To sum it up, it's as fast as the volatile stuff, but it's also persistent.
Opening times under testing:
Optane from Intel is the first product line using the new 3D Xpoint technology.
Intel and Micron teamed up in 2012 to research and develop a new type of memory storage that removes the flaws that NAND flash has.  They came up with 3D Xpoint (pronounced "crosspoint").
3D Xpoint really is 3D – wires form a crisscross lattice above and below a bulk material, with the top wires of the first layer acting as the bottom wires of the second layer.  Increasing capacity simply means adding more layers on top.  This criss-cross wiring pattern means that it allows bit-level access, which means apart from providing more than just storage, the controller has far less work to do, greatly reducing response times.  With no transistors required per cell Xpoint has roughly four times the density of DRAM, and due to the bit-level access, write amplification is not an issue and is part of the reason why Xpoint has endurance ratings some three times that of NAND at the same capacity. All this means Xpoint sits between DRAM and NAND in performance effectively creating a new tier of storage/memory.
Intel plans to release consumer SSDs based on 3D XPoint technology later this year.
Optane Memory laptops will be great, paired with an HDD to get higher storage capacity and a more responsive system instead of a highly expensive high capacity NAND SSD. Low-end desktops where money is of concern may also find Optane plus an HDD to be a good compromise.
Outside of those situations, it seems best to wait until larger Optane drives come and can be used as regular drives or the software integration gets better. For now, Optane Memory is very promising but this implementation of it is somewhat disappointing.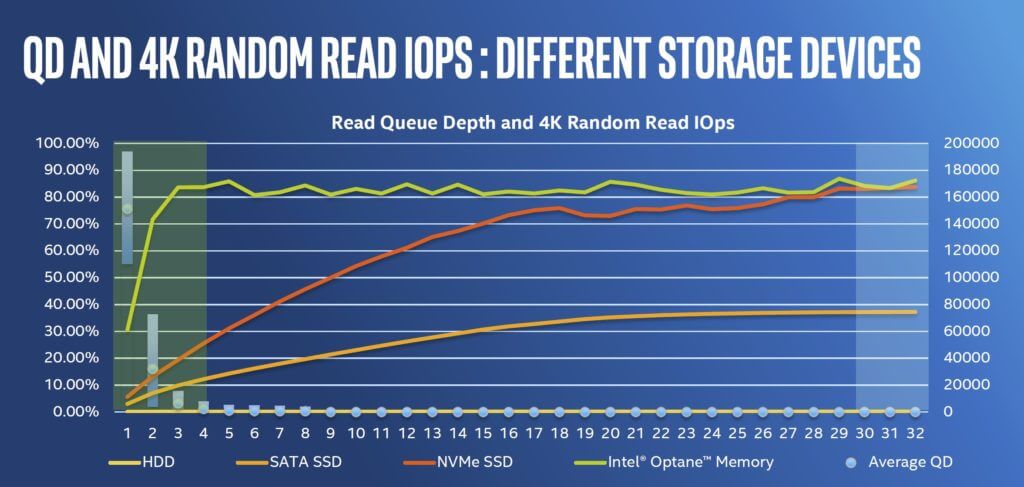 Pros:
Works well in making an HDD-based PC more responsive.
Unlike RAM, is non-volatile and can retain data once powered off.
Cons:
Only works with the latest 200 series Intel motherboards paired with a 7th gen (Kaby Lake) Core processor.
The caching only works with the operating system drive; there's no ability to choose which drive it caches.
The Optane cache requires something to be run or accessed at least once to train it and start caching, so after launching a program a couple of times, the speedup becomes noticeable.
The Optane driver cannot be uninstalled; Optane can be disabled afterwards but switching your storage controller back to AHCI causes Windows to not boot.
While Optane caching was enabled during testing, another NVME M.2 drive plugged into the system didn't show as a device until the controller was reset to AHCI again
Using a 32GB version, every 3rd boot or so caused the Optane drive to go through an "enablement" cycle before getting to Windows, adding another 2 minutes to the boot time, (something the 16GB model apparently doesn't suffer from).
Disabling Optane caching took some thirty minutes waiting for the drivers to finish the process.
By Heather : Urban IT

With almost 2 decades of experience in the Information Technology industry, Urban IT provides a unique blend of expertise and customer service, specialising in Dental, Business and Medical IT solutions right throughout Australia.
Business Hours:
Mon - Fri : 8am - 6pm
Weekends : By Appointment
After Hours : By Appointment