As the healthcare industry strives to be more efficient, health information technology and other technology needs are becoming more sophisticated. Even single-chair dentist offices and small private physicians' offices need to follow best practices for managing patient data accurately and securely.
The benefits of IT in healthcare are vast, but the right services for you vary depending on your practice area. Medical and dental IT services are slightly different, and your health information technology needs will be more complex if you have a larger practice. 
Varying Needs
Your practice is both a clinic and a business, and it must be managed in accordance with all applicable Australian laws. Violations of Australian healthcare privacy laws, especially the Privacy Act, can get you in significant trouble with authorities and erode your trusting relationships with patients.
This is why it's important to partner with a managed services provider who specialises in healthcare settings. A general IT company might be unable to help you sort through best practices for the healthcare industry. Someone who specialises in healthcare IT can suggest custom-tailored solutions that fit your facility's unique needs.
Having a whole team of IT specialists on call also helps you react to your changing needs faster and prevent problems from occurring in the first place. Working with an experienced team helps you stay informed of the latest improvements in software, hardware, and health information technology.
Imaging Software
Modern healthcare facilities use a complex range of imaging systems from companies like Henry Schein, Sirona, and others. Both dental and medical facilities need their equipment back up and running as quickly as possible if a major problem occurs, but general maintenance staff and even medical technicians don't always have the knowledge necessary to address software or hardware issues.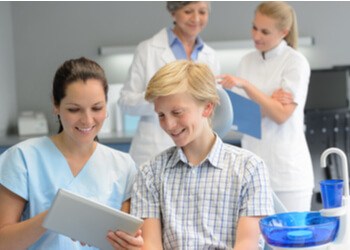 More subtle problems also can go unnoticed. For example, your imaging software could start giving less-precise or even inaccurate results if equipment and software calibration is neglected for too long.
Healthcare industry IT specialists know the importance of keeping your imaging software running perfectly and will be able to spot potential problems before they get out of hand. We can also integrate a new or old imaging system with other essential software, like digitised patient reporting and general practice management software. 
Practice Management Software
Digitised patient reporting, online patient appointment systems, patient education, integrated payment gateways, and other essential health information technology programs make it easier to streamline your administrative operations. When they work well, they reduce human error and allow you to run your office with fewer clerical staff.
Dental4Windows, Oasis, and other software programs are designed to be as secure as possible. Although they are generally user-friendly, they need professional support to set up, customise, and troubleshoot to access the full benefits of IT in healthcare. System upgrades and glitches can slow down your team, and you can't afford delays if your practice is already busy.
Your needs for these systems can vary widely depending on how many practitioners you have in your facility and how many different types of appointments you have. It's best to work with a team of professionals that can help you get the most out of your systems instead of trying to wrestle with them on your own.
Network Solutions
Using a secure internet and office network system may seem simple at first glance, but trying to set up and secure it on your own has its risks. Identity thieves and other hackers are becoming increasingly sophisticated, which means your office network needs to be as secure as possible in order to keep them out.
An IT specialist can identify potential vulnerabilities in your Wi-Fi and other network connections. This is especially important if you have a large facility, but even small practices and insurance companies can be a target as the threat spreads across the healthcare industry.
Cloud Storage
Keeping patient data on-site helps keep it secure, but potential problems can arise when sharing it securely with other providers. Instead of managing your own system, use secure cloud storage that's designed for health information technology.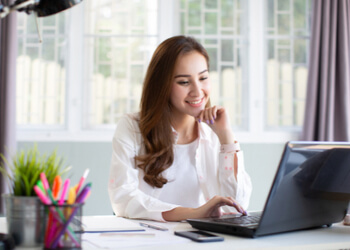 Cloud storage allows authorised users to access data from anywhere instead of requiring them to be physically on-site.
Since internet speeds have improved in recent years, cloud storage is now the standard for many industries and has many advantages. It streamlines your staff's workload by making it easier to share information automatically with authorised users. 
Another benefit of cloud storage is that cloud storage specialists can achieve economies of scale that make their services inexpensive. Instead of dealing with all the server and maintenance costs yourself, you can rely on a company that provides the benefits of IT in healthcare with cloud storage.
Data Recovery and Backup
Although cloud storage helps protect your patient records, you may have additional data backup needs that don't make sense to store in the cloud for others to access. You also may have a situation on your hand where you need data recovery from a damaged hard drive or other systems because you waited too long to backup.
IT specialists can quickly restore your old data, even if the drive it was on was physically damaged. Instead of giving up or restoring your health information technology from an outdated backup, consult with a professional who can handle your sensitive data with the care it deserves.
Unlocking the Benefits of IT in Healthcare
Health information technology is always improving, but regulations and best practices change regularly as well. You need to stay up-to-date to remain competitive as a business while providing the best care possible to your patients.
Instead of relying on a patchwork of IT services providers, work with a company with the capacity to tackle all your IT needs. Urban IT works with dentists, allied healthcare professionals, and others in the healthcare industry to keep your practice running smoothly. We can provide in-person services in the Melbourne area but are happy to provide our virtual expertise to anyone.
We offer support for a full range of common practice management and imaging systems, plus business software and general network support. Count on our team to help you realise the full benefits of IT in healthcare. Call us now on 1300 653 943.